What's a CUCM Data Sync?CUCM DATA SYNC
When generating CUCM CDR Call Analytics searches and reports, Variphy often needs to identify and use CUCM information, such as the description of a phone or device, the devices or directory numbers that identify a user, the users which are in a department, or the devices which exist for a particular type (e.g. all Telepresence devices).
Variphy can fetch and use this information from either the current running CUCM configuration in real-time, or via an internally stored "CUCM Data Sync" of the data which is stored outside of CUCM and in Variphy instead.
Using a CUCM Data Sync is often preferred as it minimizes the communication needed between Variphy and CUCM but depending on the how many moves, adds, and changes are being performed in CUCM, it can quickly become out of date.
On occasion, while working with Variphy Support to resolve an issue, we may ask for a CUCM Data Sync export file.
Follow the below steps to export a CUCM Data Sync from Variphy.
Step 1) Login to Variphy and select CUCM from the Clusters section in the Setup menu.

Step 2) Identify the appropriate Cluster and click the Edit button

Step 3) If a recent suitable CUCM Data Sync doesn't already exist,
1st perform a sync by clicking the Perform Sync button (or schedule one to be created) from the CUCM Sync Settings section.
Once a successful CUCM Data Sync has been created, click the Export Sync Data button to export the file in a .zip format.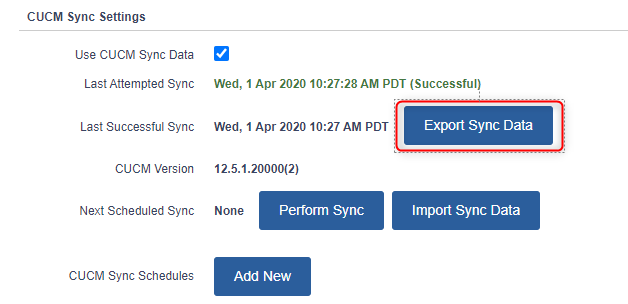 Step 4) Confirm and download the CUCM Data Sync export