Variphy can deliver scheduled reports via FTP (or email), through the use of a FTP Server configured in the application.
Variphy supports either FTP (unsecured) or SFTP (FTP over SSH) an thus can integrate with virtually any FTP Server.
To Add a New FTP Server in Variphy
Step 1) From the Setup menu in Variphy, select FTP Servers from the System section.
Step 2) Click the Add button

Step 3) Configure the following according to the desired FTP Server you would like Variphy to connect and upload reports to:
Name – this is used for selection and identification purposes in Variphy
Hostname/IP Address – the host or IP which Variphy should use to connect to (ensure the Variphy server can connect to this host)
Protocol – select either FTP or SFTP (FTP over SSH)
Port – Based upon the Protocol selected, this should adjust automatically but can be manually adjusted if necessary
Username – the user account to use for authentication purposes
Password – the password for the Username
Remote Directory – this is the directory location on the remote FTP Server which Variphy will upload to. The single forward slash '/' represents the default "home" directory for the user.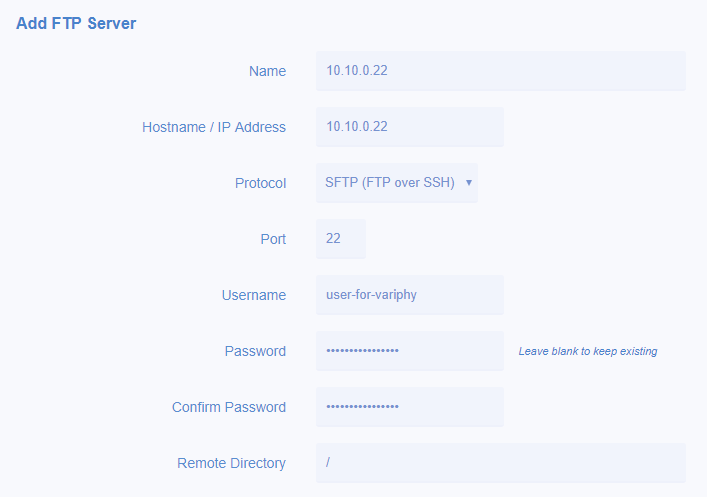 Test the Configuration
After saving any changes, to test the FTP Server configuration, select a test file to upload via the "Upload Test File" option at the bottom of the page.

Once the FTP Server is configured and operational, you will see it as an option for schedule report delivery in the application, such as: