PROBLEM:
When you view CUCM CDR call activity in Variphy for Hunt Pilot groups, the data may not show the information on the individual lines within the hunt group that were dialed/called or answered.
SOLUTION:
Step 1) Login in Cisco Unified CM Administration and select Service Parameters from the System menu.
Step 2) Select a call processing CUCM Server from the Server list (one which has the Cisco CallManager service Active) and then select the Cisco CallManager (Active) service.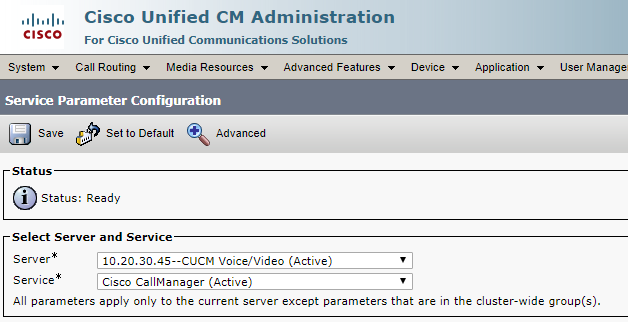 In CUCM version 8.0 and later the following service parameters within the
Clusterwide Parameters (Device – General) section should be set to true (the default is false):
Show Line Group Member DN in finalCalledPartyNumber CDR Field
Show Line Group Member Non Masked DN in finalCalledPartyNumber CDR Field

If the Show Line Group Member DN in finalCalledPartyNumber CDR Field setting is not enabled, the FinalCalledPartyNumber in the CDR will be the same as the OriginalCalledPartyNumber (the Hunt Group number) instead of the actual directory number which answered the call.
**Note- This parameter applies only to basic calls routed through a hunt list without feature interaction such as transfer, conference, call park, and so on. If a feature is involved in the call, then the hunt pilot DN will show in the finalCalledPartyNumber field regardless of the setting in this parameter. This parameter does not apply to Cisco CallManager Attendant Console.
For More Information http://www.cisco.com/en/US/docs/voice_ip_comm/cucm/service/8_6_1/cdrdef/cdrex.html#wp1274804