Variphy 12.1 introduces new UCCX Dashboard capabilities, CDR reporting and alerting options, and the addition of DID's and customizable DID blocks to the DN Management feature. If you are upgrading from 12.0.x you will only notice some minor differences. If you are upgrading from version 11.x or earlier, please see the Variphy 12.0 Overview page for a list of improvements previously introduced in 12.0. This document will specifically focus on 12.1 additions.
Upgrading Variphy
You can currently upgrade your existing version of Variphy directly to version 12.1.0-EFT2. While this is currently a Beta version, the GA release is expected in mid to late January 2020. For assistance with upgrading your software, please contact support@variphy.com or refer to our user guide Upgrading to Version 12 of Variphy. After upgrading, you'll notice a few improvements and differences.
"DN Management" is now "DN & DID Management".
This expanded feature allows you to Search, tag, & report on DID numbers based upon real-time CUCM status. It also gives you the ability to associate multiple DID Blocks with multiple CUCM Clusters.


Blocks can be associated to one or more sites, Configured with a specific number range, associated to specific clusters and route partitions, tagged with custom identifiers, and assigned to user/group permissions directly within the configuration menu.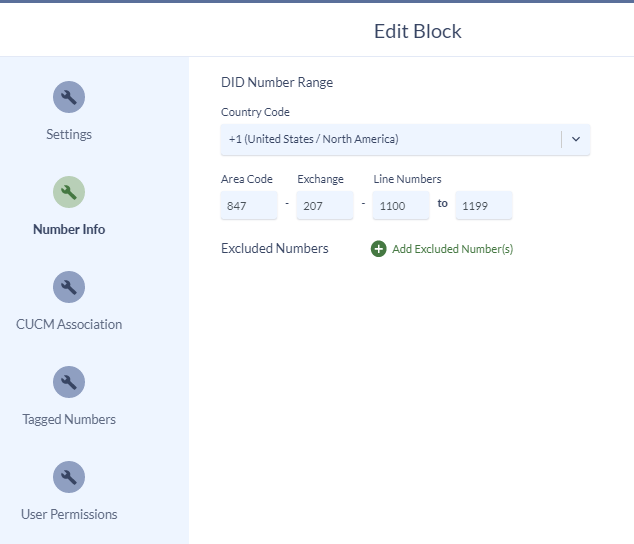 For more details on how to configure and use this new feature, please consult the DN & DID Management User Guides.
New Widget: Real-Time UCCX Agent Activity
Our newest UCCX wallboard widget type automatically shows agents' status and updates in real-time. Filter specific Agents and states to include and see activity and durations without refresh delays. You can also create widgets base on CSQ real-time statuses, as opposed to individual agent statuses.
True Extension Mobility Awareness
Variphy is aware of end users' call activity with or without extension mobility
New CDR Alerting Criteria
You can configure Variphy's CDR Alerts based on the Comment, Device IP Address, & Route Partitions fields. This is useful, for example, if you want to receive alerts whenever a call is flagged as malicious by an agent (this would appear in the comment field).
New Search Time Window Option for Year To Date
Additional Features on the Roadmap for Variphy 12.1.1
Version 12.1.1 is expected to release Q1/Q2 of 2020, and will include some additional features to make Dashboard and Widget use more customizable and provide easier access to other users.
Dashboard Sharing
Share your Dashboards & Widgets with other Variphy users in your organization, who can then select and view it under their own profile in a read-only mode. While they will not be able to edit the shared dashboard, they can copy widgets from it to their own dashboard, and then modify those copied widgets any way they like.
Shared dashboards from other users will be placed under the new header "Shared with Me" so that shared dashboards will not be confused with a user's primary owned dashboards.
Widget Specific Font Sizing
Currently, widget font sizing is done at the dashboard level so that all widgets will be resized to the same font at once. However, this may not be ideal for some dashboards with a variety of Widget types and sizes. You will be able to perfect your widget layout by having each Widget configurable with its own custom font size.
If you have any questions about the new and upcoming features, or would like assistance with upgrading Variphy, please contact us at support@variphy.com