How to add your Webex Account in Variphy
1. Add the new Webex Organization to Variphy
Log into Variphy and hover over the Setup icon in the upper right corner and then click Webex Organizations from the Platforms section.
Note: This will only appear and be accessible for system administrator users and if your instance of Variphy is licensed for Webex Calling.

On the resulting page, click the Add New button.

Clicking the Add New button will open the following simple configuration modal to complete the creation of your Webex Organization in Variphy.
Enter the desired name for your Webex Organization in Variphy, for display and selection purposes.
Select the appropriate Enterprise group in Variphy to assign this Webex Organization to
Click the Authorize Variphy App button to authorize your instance of Variphy to connect to and use Webex APIs on behalf of your Webex account and organization. Note: A Webex Account owner or admin user must perform this operation.

Copy the OAuth Authorization Code provided.

Paste the OAuth Authorization Code value obtained/copied in the previous step
Click the Save button!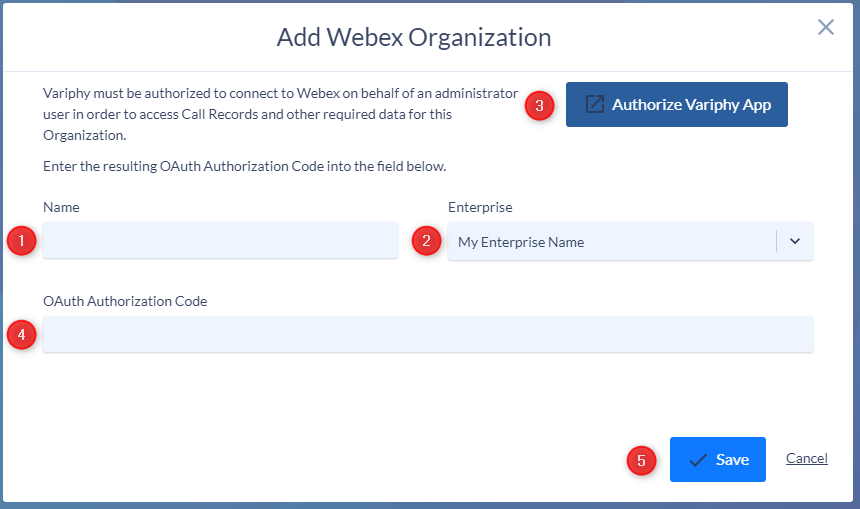 Click on the checkbox on the far right side to confirm the connection to your Webex Organization.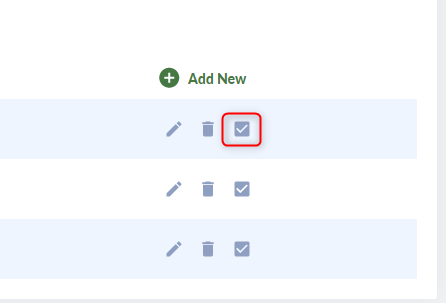 If the Organization License Status shows Organization License Valid and Organization Information shows Successful then the connection is good!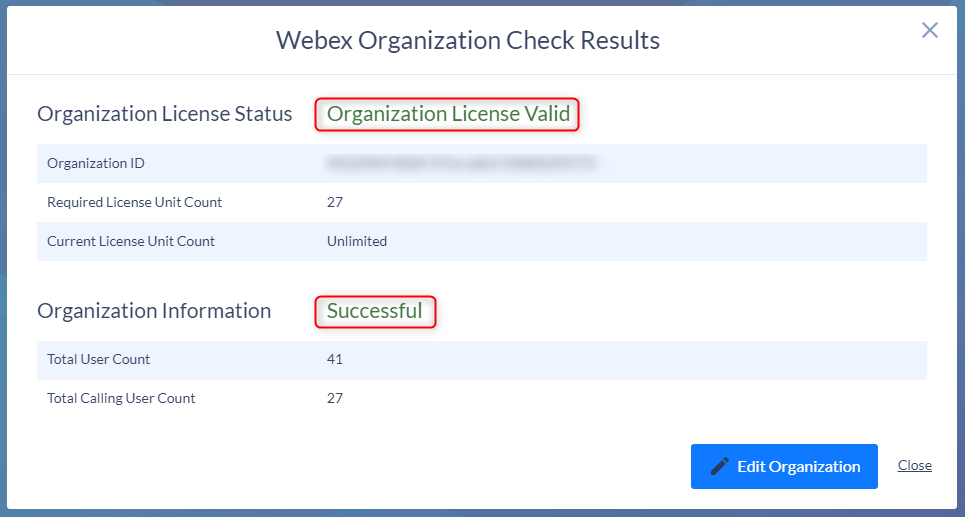 2. Configure CDR Processing
Navigate to the CDR Processing tab and click the gear icon to edit your Webex Organization.

On the resulting CDR Processing Settings & Activation page adjust the following configurations
Enable Data Processing

Toggle on to enable processing of Webex Calling Data

Primary Database Server

Select your SQL Server from the list of available options.
Primary Database Name

Key in the name you wish to use for the Primary Database name

Primary Database Purge Settings

Adjust the data purge settings per your company's requirements
Additional Optional Settings:
CDR Data Monitoring Settings – How to Configure No CDR Alerts in Variphy
Enable Database Archiving – How to Configure Database Archiving on a new cluster. \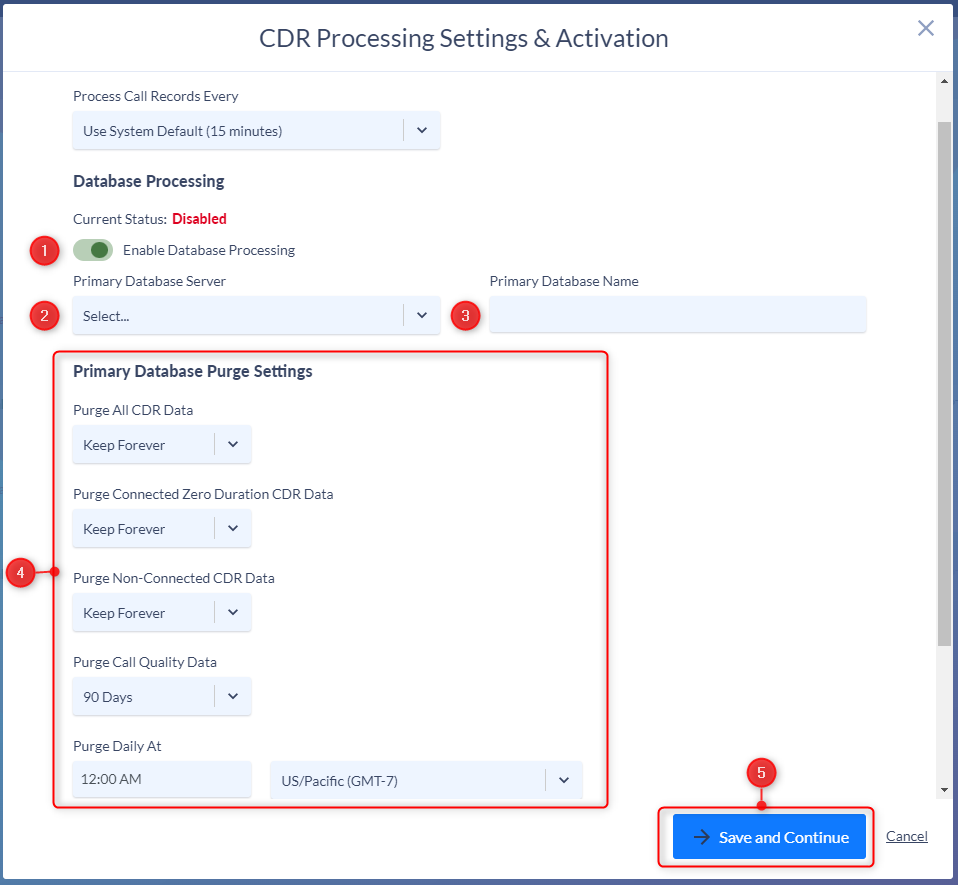 Click Save and Continue
On the resulting page click Create Database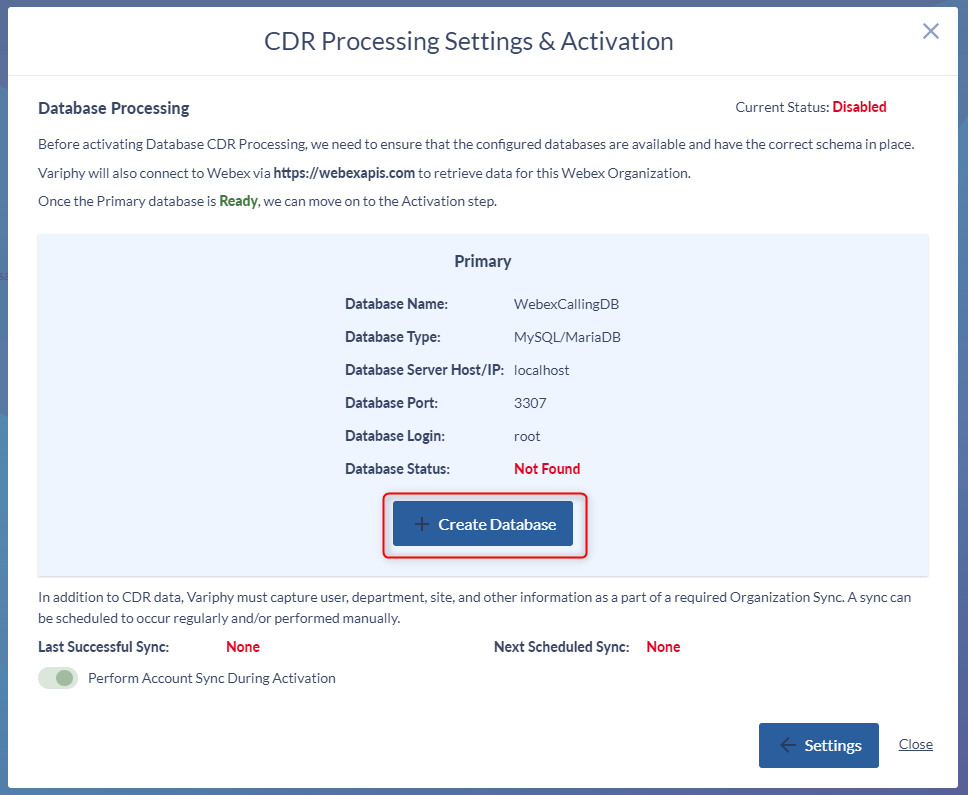 On the resulting page click Activate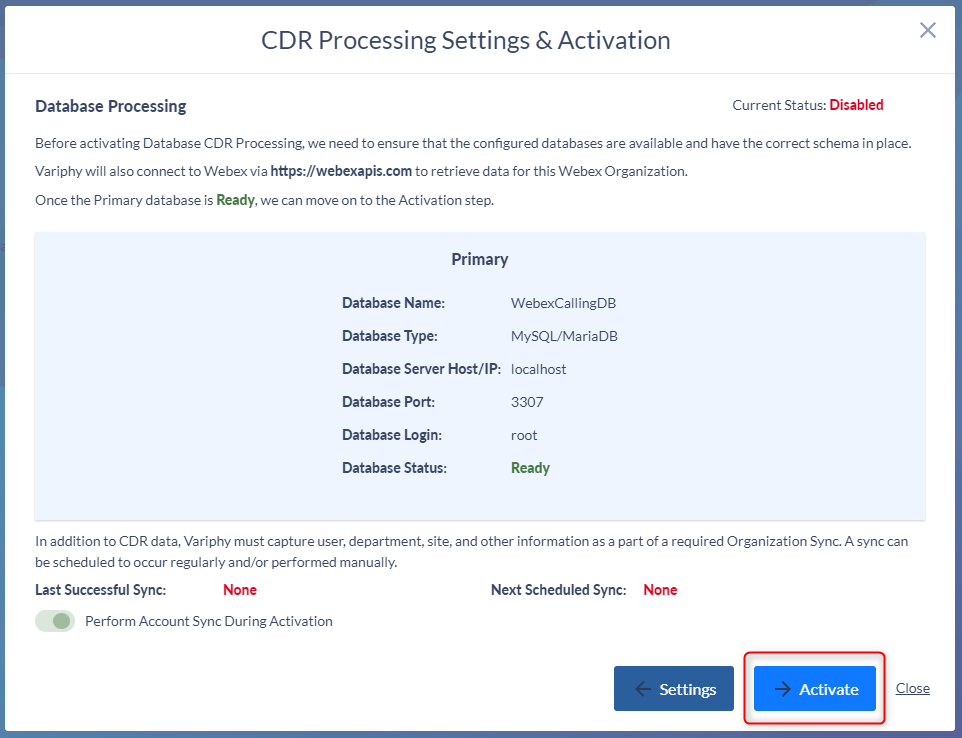 You will see a message stating Database CDR Processing was successfully activated. Click Finish and Schedule Sync.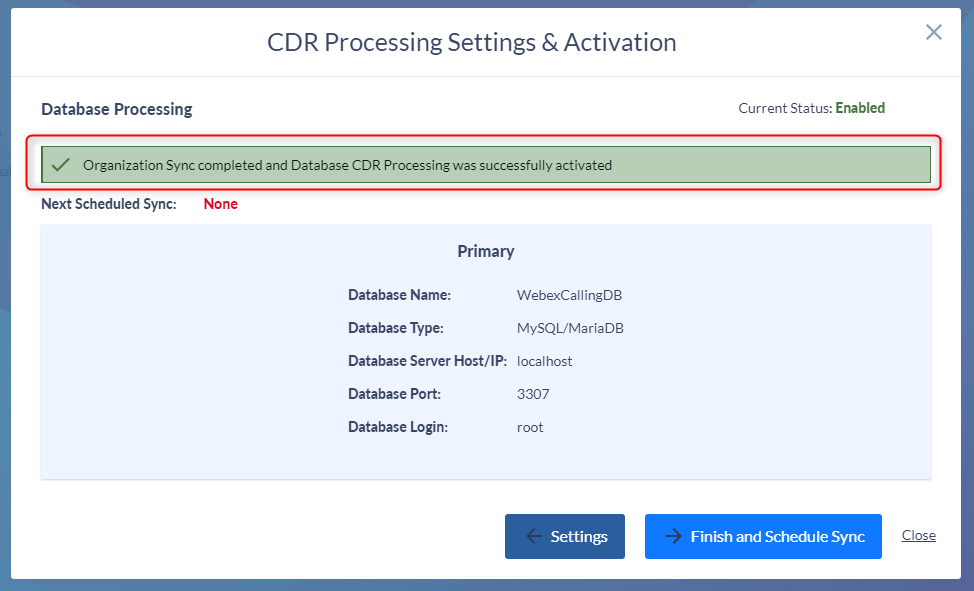 3. Schedule your automatic data Sync
Scheduled Syncs are used to pull Webex Organization meta data into the Variphy database for reporting. Different than call data, which is pulled on the CDR Processing Schedule, meta data includes things like new Webex Calling Users, Groups, Departments, Queues, etc…

Click Create Webex Sync Schedule
Select the Days of the Week the Sync should run.
Select the Start Time and Time Zone you wish the sync to run.
If creating multiple Sync Schedules click the Create Webex Sync Schedule to add multiple syncs.
Click Save once you have added all your sync schedules.
In the example below I am running a sync twice a day, once at 6:00 AM and again at 5:00 PM Monday through Friday.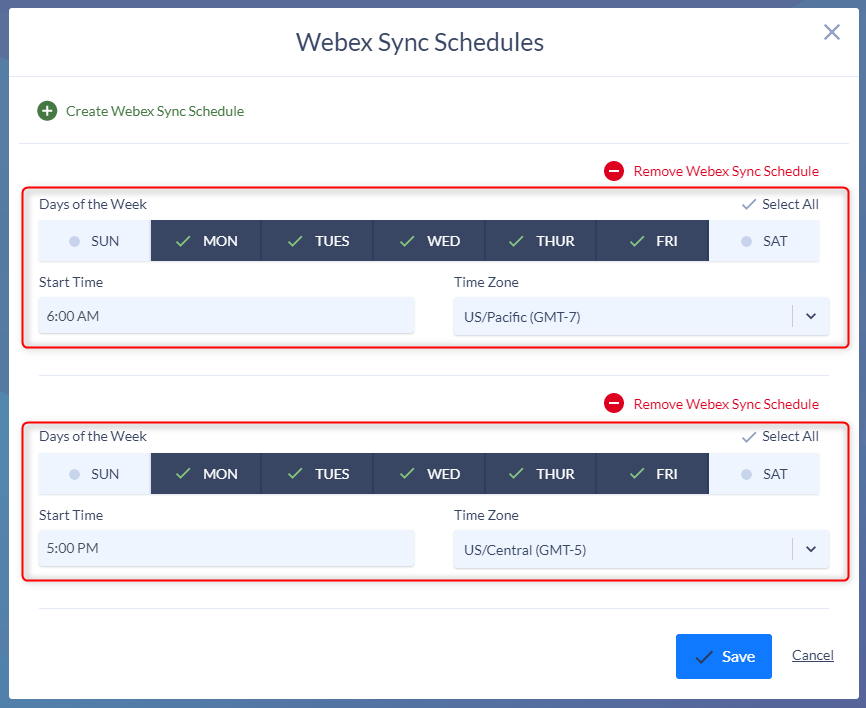 You have now completed the Webex Organization setup.