Introduction
Variphy server requirements are drastically determined by, whether or not, Call Analytics feature is licensed for. If Call Analytics is used, sizing heavily depends on the number of call records stored in Variphy's database. Outlined below is information pertaining to how Cisco Communications Manager (CUCM), Unity Connection (CUC), and Unified Contact Center Express (UCCX) communicates with the Variphy application.
CUCM Billing Application Server
Access to the CDR files and their data can be made possible by configuring what's referred to as a 'Billing Server' in Cisco UCM. A Billing Server is simply a remote computer or server running a (S)FTP server. Once a Billing Server (consisting of host name/IP address, FTP protocol, login credentials, and directory path location) has been successfully added in UCM, CDR files can be automatically sent, via (S)FTP, to the Billing Server(s).
Once the (S)FTP communication has been established from the CUCM Billing Server to the Variphy server, CDR files will be uploaded regularly as set by the Enterprise Parameter, CDR File Time Interval. By default, this is set to 1 minute, which means a new CDR file is created every minute for all calls ending within that minute and is subject to the automatic (S)FTP transfer to the Billing Server(s).
(S)FTP Application
Linux OVA: Variphy embeds the open source platform, OpenSSH, into the distributed OVA.
Windows: For the use of Call Analytics a (S)FTP server will be required to collect CDR files from CUCM. It is the customers responsibility to obtain a suitable FTP/(S)FTP server application to be installed co-resident with the Variphy application. Popular zero-cost (S)FTP server options include FileZilla Server, WinSCP, or SolarWinds.
Database Application
A database application, MySQL or Microsoft SQL, will only be needed if running the Call Analytics tool in order to store all call records delivered by CUCM.
Linux OVA: Variphy utilizes a pre-installed/configured instance of the open source platform, MySQL, within the distributed OVA. An external database application will not be needed unless desired.
Windows: For the use of Call Analytics a database will be built in your preferred MySQL or Microsoft SQL instance. These application will need to be downloaded and configured manually. Variphy does not
MySQL – https://dev.mysql.com/downloads/windows/installer/
Microsoft SQL Express – https://www.microsoft.com/en-us/download/details.aspx?id=55994

Server Requirements
The system requirements outlined below assumes that Variphy will be installed in a 'stand-alone' function
| | |
| --- | --- |
| Hardware Platform | Virtual Machine (Preferred) |
| Operating System | Linux OVA, Windows 64-Bit, or Mac OS |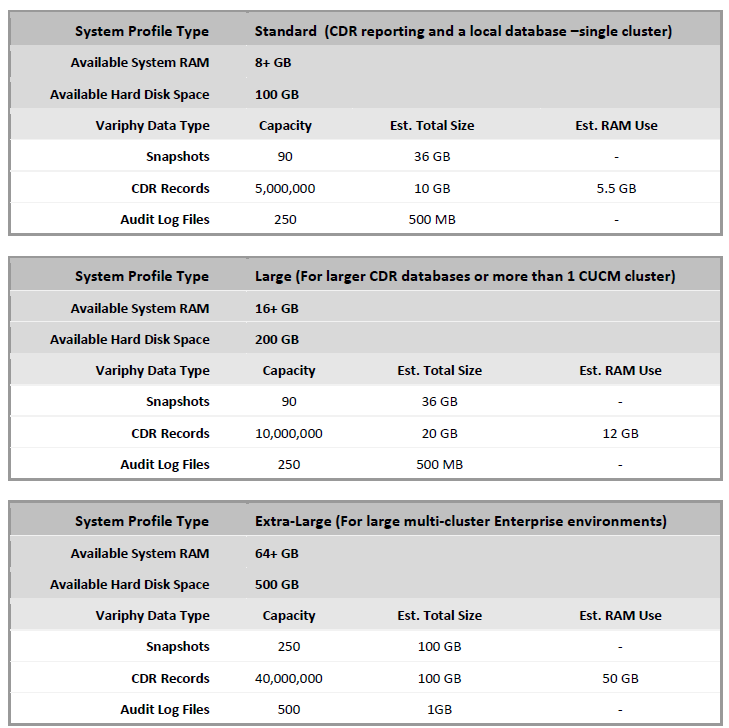 Network Port Requirements