In Variphy, users with Dashboard privileges can setup and own their own Dashboards.
Prior to Variphy 12.1, a Dashboard could be viewed by its creator user in Variphy and, if enabled, via a Permalink URL.
The following article illustrates how to Share Dashboards with other Variphy users and/or groups.
Related Article: Configuring & Using Variphy Dashboard Permalinks
New in Variphy 12.1 is the ability for a user to share a Dashboard with other Variphy users and groups, who can then select and view the Dashboard when they are logged in and using Variphy.
How to Share a Dashboard to Other Variphy Users and/or Groups
Select and view the appropriate Dashboard and then select the Share option from the Dashboard's configuration menu.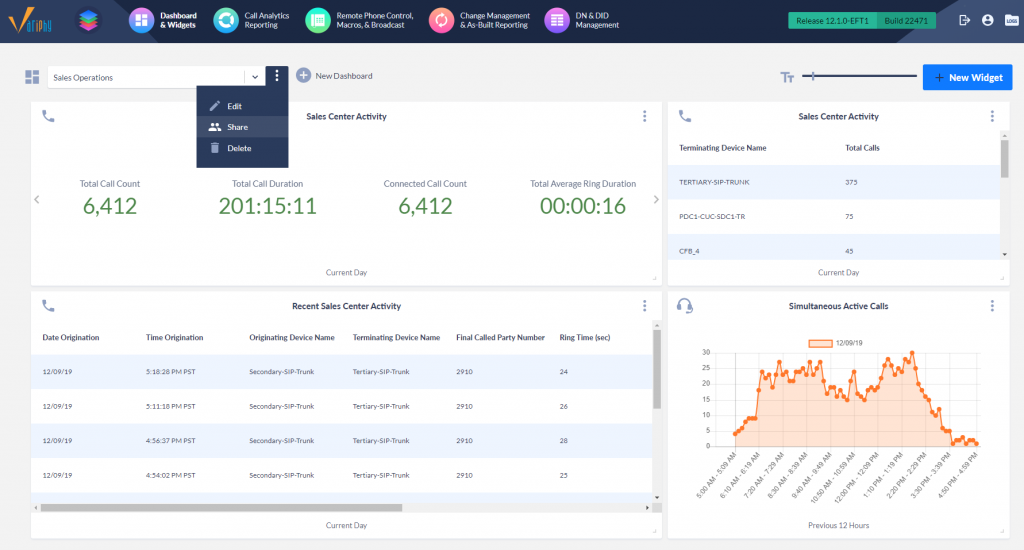 This will open the following dialog showing the Sharing configuration tab for the selected Dashboard.
Enable the Share Dashboard To Users and/or Groups toggle.
In the User/Group Permissions section, select and add any appropriate user accounts and/or user groups to which this Dashboard should be shared to.
When finished, click the Save button.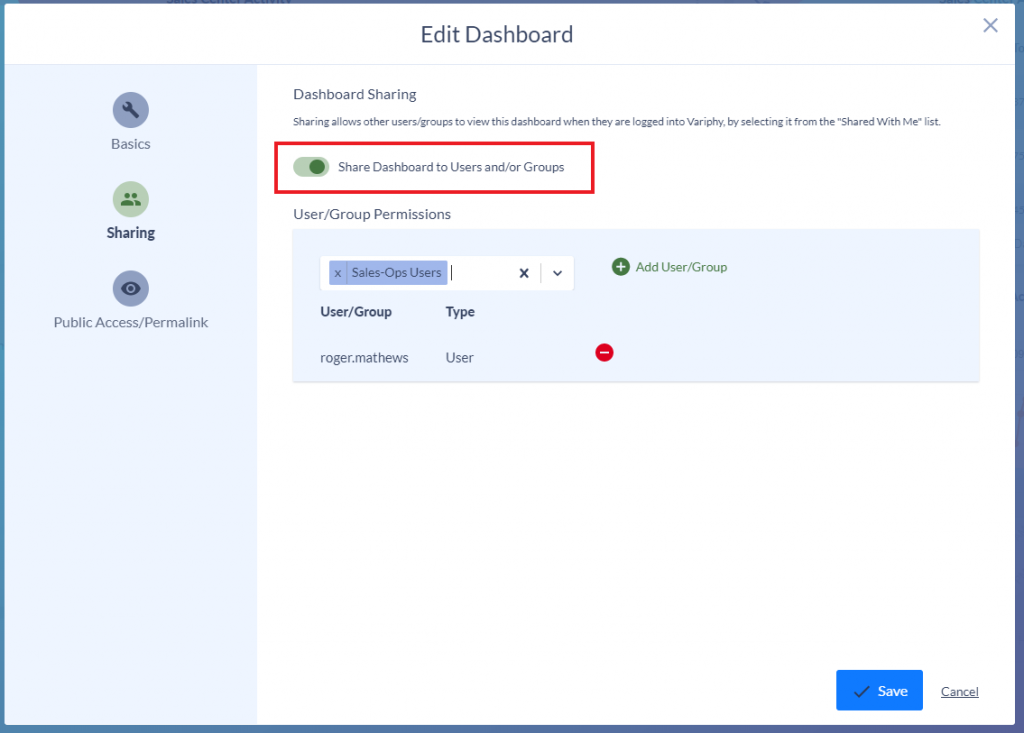 How Other Variphy Users & Groups Will See a Shared Dashboard
Variphy users who have at least 1 Dashboard shared to them will see a Shared With Me section in the list of Dashboards, which will contain a list of all shared Dashboards the user can select and view.
What Variphy users/groups can do with a Shared Dashboard
A Variphy user viewing a Shared Dashboard will be able to:
View and refresh Widgets (subject to user data restrictions)
Copy Widgets to a different Dashboard which he/she owns
Re-order and resize Widgets
Increase or decrease the Dashboard Font Sizes
Increase or decrease specific Widget Font Sizes (new in Variphy 12.1)
View Widget Info
What Variphy users/groups cannot do with a Shared Dashboard
A Variphy user viewing a Shared Dashboard will not be able to:
Edit the Dashboard (change its name, configure Sharing, or configure Permalink)
Delete the Dashboard
Create new Widgets
Copy Widgets within the Shared Dashboard
Delete Widgets
Edit Widget configurations